10 Best Task Management Apps for Mac
Productivity means accomplishing a task efficiently and in a less time-consuming manner. To do that, you must be aware of your time flow. For example, what kind of activity is squeezing most of your time? After, you can use these metrics to create a solid schedule. Hence, it requires planning and a well strategic approach. Also, you might have to Google a lot to know the answer to all these cliche questions. For example, where to start, what to do next, how to do it, etc. To solve this problem, many companies build "Task Management Apps." You can use these apps to create a proper plan efficiently and easily.
But what kind of task management apps are out there? How to choose an appropriate app for all your productivity needs? Or what kind of things we must consider before choosing a task management app?
You don't have to worry about all these questions. Today we're going to talk all about task management apps. Also, igeekfunnel already created a top 10 list of best task management apps for mac.
So let's take the first step to unleash your real productivity skills.
Things to Consider Before Choosing a Task Management App
You know that you can get a task management app for more productive results. But Choosing the best app according to your profession or needs is the next tough step. However, I mentioned the top 10 task management apps in this post. But, you can't try all of them. It would be a big irony if you'll lose a productive day to find a suitable productivity app.
Also, almost every app possesses a separate audience base. Some management apps are specifically made for organization and industry work. For example, creating reports, managing, and automating plan. Also, some apps help you create and manage a personal to-do list. Meanwhile, some apps help you with the communication part of your personal or professional life.
Then how you can find a suitable app for yourself or your business? Don't stress about it much. iGeekfunnel also created a checklist to find a perfect task management app for you.
Let's get into the checklist.
User Interface (UI):
No matter, if you're looking for an app for your personal use or your business, you can't ignore its UI. The User Interface of the app should be simple, clean, and well-responsive. There is no point in choosing an app with a complicated UI where you've to spend 20 seconds to find an option. Trust me 20 seconds are too much. Unless this app has features that no one has, it's pointless to choose that app. Nevertheless how tech-savvy you're.
Functionality
Before choosing a specific app you must consider the features you need. It could be different from person to person but some features are a must for almost every person.
Task Scheduling: Make sure that the app you're choosing must have scheduling options. Also, you can see if it has calenders, and a columns-like grid to set tasks according to different variants. Such as employees' names, deadlines, or various tasks. You can also note the difficulty level of adding and deleting the task schedules.
Time & Task Tracking: You must have noticed this feature if you're serious about your business. The time tracking option allows you to track the time you took to complete a certain task. This option could be seen in the task tracking option too. Keeping records of task metrics is the main agenda of this option. With this, you can see what kind of task is taking a lot and how much contribution it needs to be done.
Integrations: Today all apps are connected. So you must have integration support for your daily-usage apps. Also, make sure how difficult it is to add the integrations in your app.
Team Collaboration: If you're looking for a task management app to use in your company then it's a must check. Team collaboration is an essential part of assigning, managing, and completing tasks. And, if you can do that in a task management app then it'd be much easier to follow up a certain project.
Also, you can look out for the features like "Budgeting, Invoice, and Real-Time data". However, there are many features and you must choose according to your priority. But these features are a must for increasing their productivity.
Pricing
You've chosen the app that works for you. But when you saw the price it was not reasonable for you. At that price, you can hire two freelancers from a tier 3 country. That would not be considered a smart move. Also, there are dozens of other task management apps that you could use as an alternative. It could be possible that these alternatives won't excite you. But you must choose the app that fits your budget. So check the price first before getting into a task management app.
10 Best Task Management Apps
After knowing the considerable things for the best management app, you start Googling. Now you'll see many results there. As a result, it might be confusing for you to choose the right app. To help you, I already created a list of the 10 best management apps for you. Also, I have added a few details of all of these apps. So just check them out to find which one suits you perfectly.
Here comes the list.
nTask is an easygoing tool that is available for MAC as well as PC. This task management tool comes with an aesthetical appeal and all the top features that you need to upskill your task management work. You can use it to manage projects, make checklists, team collaborate, and schedule meetings. This app also offers the option of sharing files with your co-workers. Yes, all of these are in one task management app.
nTask also allows you to track the projects of your trams. Moreover, you can easily share documents for different stakeholders in here. The integration support from major platforms like Slack makes it more special.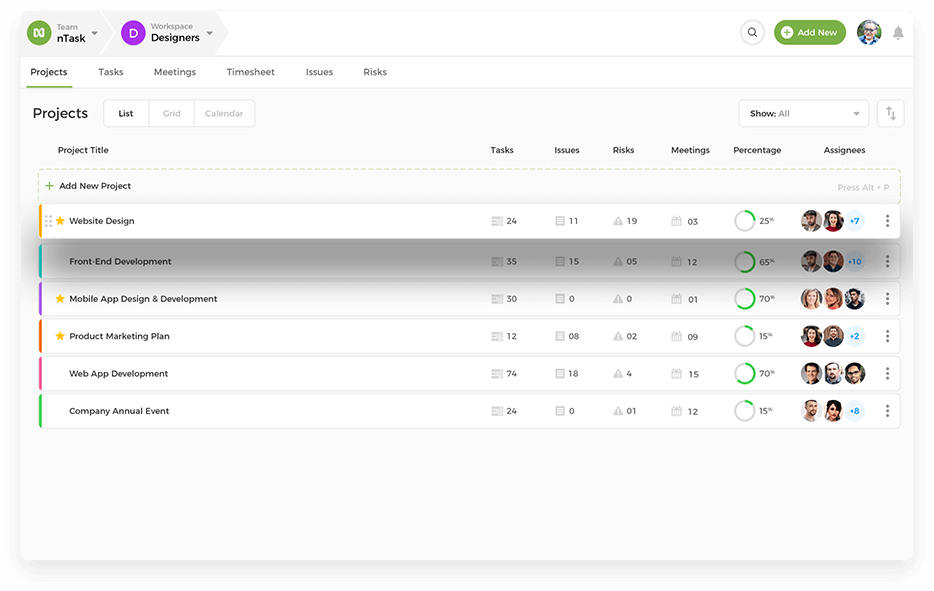 The integrated cloud service with all the essential features gives you the authority to manage all your teams. You can easily assign, define and reschedule your task with the nTask. Also, you get an option to monitor the progress and schedule the meetings accordingly. If we talk about the usability of nTask, it's ready to go and easy to understand for starting projects with your teams. The beginner-friendly UI allows even a non-tech savvy to execute a project without any complication.
However, some users reviewed that there is a lack of advanced features. For example, in-depth project metrics of a single team member. But as nTask told that you can expect this feature in the next version as it is now under the beta stage.
Moreover, you can download the nTask free as an individual. This plan features 100 MB Storage, 5 Members per Team, Unlimited Workspaces, Unlimited Tasks, Meetings, Timesheets, Issues Tracking which is more than enough to start. Also, you have the option to choose the premium plan that costs you $3/month for a user. In this plan, you will get features like Gantt, Kanban Board NEW, Bulk Actions, Custom Filters.
Monday.com is one of the best task management apps for collaboration and communication purposes. I place it second because it might be overwhelming for some beginner users. But Monday.com is a software with a colorful, and flexible User Interface. It is overwhelmed because it comes with all the essential software for all your task management needs. You can select from multiple templates according to your projects. After that, it allows you to do high-level customization of every information you're visually seeing on it.
Moreover, features like Team conversation, files, sheets, and checklists are available to easier the collaboration. Some users only recommend Monday.com when it comes to collaboration. You can assign tasks to your team members, contact them, share/receive the notifications and the pages.  Furthermore, it supports all the major integrations such as Excel, Google Calendar, Google Drive, Slack, Dropbox, and Trello. You can increase the integrations limit up to 1000+ with a paid plan through Zapier.
Monday.com has a User-friendly interface yet the learning curve is quite steep to manage projects here. If you're interested to learn and want a Jack of all trades for your task management needs, this is the one. It comes with a forever-free plan with up to 2 team member seats. You'll get Unlimited docs, 200+ templates, Over 20 column types, and, supports for iOS and Android apps. On the other hand, you can choose from Basic, Standard, Pro, and Enterprise plans. These plans cost you $8, $10, $16, and for the Enterprise plan, you can contact the team. These plans details are for 3 teams/month except the Enterprise plan.
Things3 is one of the best several web-based task management tools when it comes to creating and managing tasks. It is a task management tool that is specially designed for Mac and other Apple products. The application has features that are well catered by the Apple developers. So when it comes to compatibility, this is the best task management tool for mac.
Like Monday.com, the app has a new redesigned User Interface that is visually exceptionally appealing. The subtle keyboard navigation is the option that you won't see in other apps.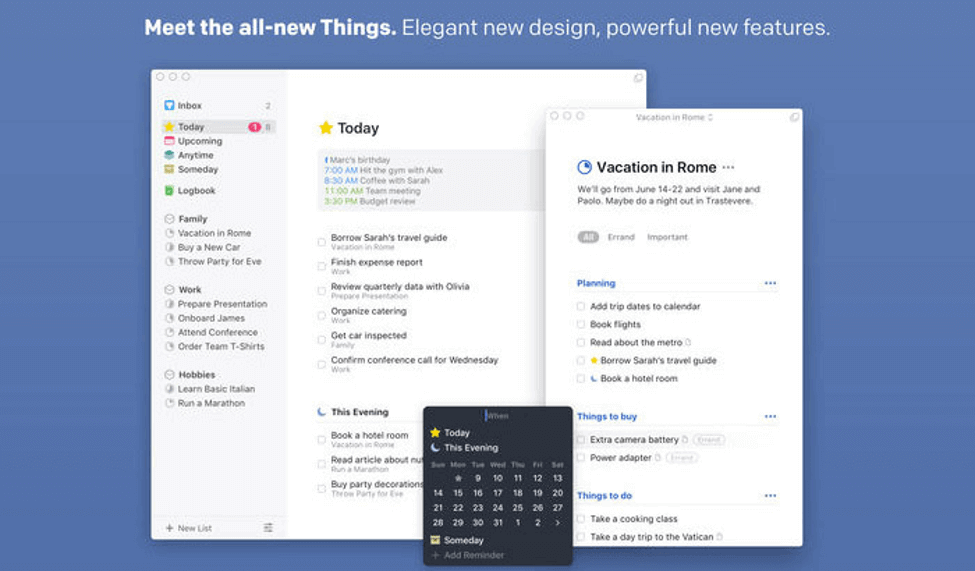 Also, the dark mode feature allows you to work in low light without putting extra strain on your eyes. It has two modes- Dark mode and Extreme Dark mode. These options are designed exclusively for the OLED displays of the latest iPhones. And, you can choose from both of these options according to your requirements.
Besides the design, it has a To-do list, Calender events, headings, upcoming and checklists. These all features are very helpful when it comes to creating schedules and your perfect day plans. It has a Magic Plus feature to create a to-do list, headings and send a straight to the text message using drag & drop gesture. Also, the Quick-Find feature to search a specific schedule very quickly.
Things3, by 'Cultured Code', also has features like Jumpstart, Slim mode, Multiple windows, and timely reminders. You can get a free trial of 15 days. Later, you can choose to buy it for $49.99.
Usually, most of Mac users stay within the Apple Eco-system. But some of them prefer to sync their tasks from Mac to other platforms. It could be any from Windows, Android, to any other option than Apple. Todoist should be one of the best task management apps for that kind of user.
Todolist features a web version in a devoted window. So it could be usable from other platforms too. Also, it comes with all the other excellent features, such as an efficient User Interface, collaboration support, and offline functionality.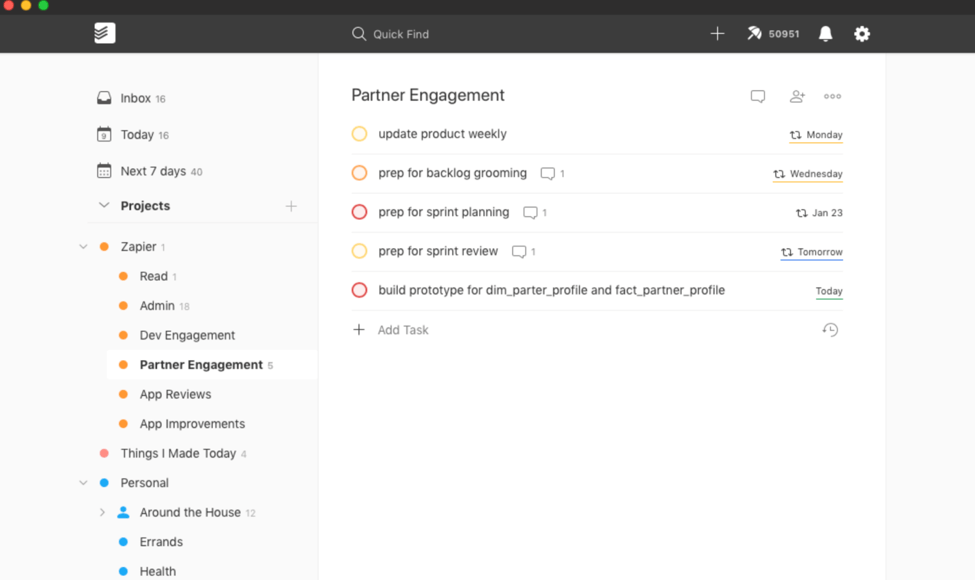 Moreover, you can easily capture/organize tasks, reminders, and due dates. Also, you can set a priority level for each task accordingly. Tracking your progress becomes easier when it comes to this productivity app. You can integrate To do list with Google Calendar, Slack, Amazon Alexa, and Gmail. Also, you can add it in the Safari using the extension to schedule your day and add websites as tasks.
Furthermore, you can sync due dates to different calendar platforms. Alongside English, it supports 14+ international languages such as French, German, Italian, Japanese, Korean, etc. You can download it free from the Mac app store. Moreover, the pro version comes with two plans- Monthly ($3.99) and yearly ($35.99). Still, you can get a discount if you're an organizational or an individual in non-profit or educational areas.
Most Mac users stick to the Apple ecosystem…but not all of them. If you need to sync your tasks from macOS to Windows, Android, or basically any other non-Apple option, Todoist is one of the first apps you should check out. Like Things, it's deceptively simple but has all kinds of advanced task management features hidden just below the surface, though Todoist does feel a little less at home on the Mac desktop.
Also read: 10 Best Javascript Editors for Mac
5. Smartsheet
Smartsheet is a cloud-based platform that is a perfect task management solution for mid-sized to large scale businesses. At the very first glance, you might be swamped by the numbers it posted on the Homepage. You'll see how customer ROI increment up to 680% or Roche increased its productivity by 40%. And, that's actually a lot.
You can share a project with your co-workers after adding comments, and positions according to the project. Also, you can set customized brand logos and color themes for individual projects. The automation process becomes easier with Smartsheet. You can set requests, weekly status reports, and daily deadline reports to the automatic. Automation feature supports integration with Gantt, calendar, and card views. Also, you can notify the critical details, changes in real-time to Team members. Another feature named "The Critical Path" allows you to keep an eye on important milestones that directly impact your project completion date.
Smartsheet supports integration with Jira, Salesforce, Slack, Box, Microsoft, and Google apps. You can pay $7/month to get a Pro plan for a minimum of 3 users. You can go up to 25 users and for a powerful no-code app builder and enhanced IT governance and administration, you can also go for the Enterprise plan. Moreover, you can get a 30-day trial version of Smartsheet too.
Teamwork is another task management software but mainly focused on "teamwork". It helps you to manage your in-house teams or your company's collaboration. As a result, you see better visibility, accountability, and production outcome. Teamwork is flexible and fully compatible with Mac that solves your all project management problems.
You can create tasks, lists, even subtasks to break your tasks into an action plan. Also, you can add due dates, descriptions, supporting documents, and priorities for your projects. In that way, you can make your projects very well-structured. That will help your team to understand the information of your task without getting overwhelmed. As a result, your company will achieve your milestones significantly.
Another function named "Workload" shows your team's capacity. Also, it is highly customizable and an intuitive task management tool. You can use pre-made templates according to your various projects. Whether it's marketing, onboarding new clients, creative engineering, or IT department, Teamwork has covered almost all of them. Plus, you can import all of your projects from other famous Task management apps such as Trello, Monday.com, and Click-up.
Moreover, real-time collaboration helps you to keep track of your clients, and team members. Teamwork also offers multiple useful integrations like Dropbox, Gmail, Trello, Outlook, Slack, and more. You can scale your information using its help desk, chat function, CRM, or knowledge base. Teamwork plans start from Free forever with max of 5 users, $10/month for min. 3 users, $18/month for min. 5 users. Furthermore, for more scalable plans you can contact them. Also, you can take a free 30-day trial.
Wrike is one of the best cloud-based task management you can use for teams. Alongside, the online web version, you can also download it as a desktop app for both Mac and Windows. However, you can use the desktop app for the Mac version the same as the web app. You can use the desktop version to use multiple browser tabs when managing projects. Also, you calibrate the software notification according to the OS settings.
Wrike is best and mainly focused on getting your task done without any distraction. It's trusted by 20,000 multinational companies like Google, Ogilvy, Snowflake, and Nickelodeon. You can also get real-time updates and see the potential roadblocks to completing the tasks in time. Moreover, the on-premises system and the enterprise-grade security is the reason you get full control over your data. The customization capability of the dashboard and term-specific automation helps you to easier your process.
The real-time commenting, notifications, live editing, and dynamic reports eliminate continuously checking of email threads and meetings. Wrike also provides the integration support of Google, Microsoft, Github, Adobe, and many more. Offline mode helps you to save and edit your tasks even without internet support.
Wrike comes with four different plans which start with free and support one user. Later, you can get a pro plan $9.80/month for a user. Also, you can get a business plan at $24.80/month per user. And, you can contact the team for large enterprises. Moreover, every paid plan comes with a 14-day free trial that is easy to set up and cancel. However, for some users, it comes with a learning curve but it's one of the best task management tools for fewer distractions and more focused features.
8. OmniFocus (macOS, iPhone, iPad)
Omnifocus is about arranging your task in a really particular order. As the name suggests, this app is for extremely focused people. It could be a dream app for you if you're a Power user (Who cut off all the distractions while working). You can organize your tasks in multiple kinds of variations. Also, you will see three different kinds of projects to set it up. This helps you to captures and organize all your activities in a powerful and easy-to-maintain system.
If you are worried about organizing and arranging your tasks, Omnifocus is the tool for you. This app is an important choice for those who're serious about their work management. This software gives different types of view options by default, ranging from the Inbox for unsorted tasks, Forecast for seeing scheduled tasks in context with any of your macOS Calendar appointments. Moreover, you can review your completed tasks at the end of the day or week. If it seems necessary, you could also create a custom view according to your needs.
OmniFocus might not be a beginner-friendly software for some non-tech-savvy users. Also, you might sometimes feel things getting cluttered at times. But after you get the hang of it, you'll have an elaborate, GTD-style task list that works exactly the way you want. Combine this with a system-wide keyboard shortcut for quick task entry. This gives you no excuse when it comes to keeping things organized. Moreover, Omnifocus provides great sync options with iPhone and Mac. Plus, you'll get a web version to access your tasks on other devices as well.
You can add major apps in Omnifocus as it supports Zapier's integrations as well. This will help you to sync the progress of all other apps in this. Omnifocus pricing plan for Mac starts from $99.99/yearly and $9.99/monthly. Furthermore, you can customize the team numbers and the price will increase accordingly. Also, you can add a web addon by paying $4.99/monthly and $49.99/yearly. And, lastly, you can also get a free 14-days trial of the pro plan.
Nutcache is a project management tool for organizing projects through color-coded schedules, task organization queues, and data reporting. It is known best for creating invoices, time tracking, and its financial features
This software bundles with standard Gantt chart tools. It helps you to track and organize your tasks with an appealing view with drag-drop-and-click editing techniques. And, the learning curve is not very steep and it's easy to learn for beginners. Depending on team preferences, you can also use the software for Agile or Scrum project management.
Nutcache offers time logging tools where users can log, track, and invoice time. It allows you to track expenses to project managers, specifically. So you can keep track of the budget throughout the project. The tool also offers multiple features to create, customize, and manage unlimited invoices. Moreover, you can add time start and stop timers in your timesheet. That helps you to track where your time is going and what you can do to increase your team's productivity. And, it allows you to log in to the system from anywhere.
Nutcache supports app integrations with popular apps which include Dynacom Accounting, PayPal, 2Checkout, Stripe, Authorized.Net, QuickBooks Online, Google Sign In, Google Drive, GitHub, Slack, and hundreds of other apps through Zapier integration.
Nutcache comes with a free plan that allows you to add max 20 members. Also, you will get Unlimited projects, tasks Board, list views, Simple time tracking, Project overview, and Basic integrations. The pro plan starts with $7.95/user for a month and comes with extra features. For example, Expenses & invoicing, Project, time and invoicing reports, and 25 GB document storage. And, the Enterprises plan starts with $15.95/user for a month. You will get Pro features plus additional features in this plan.
The best free to-do list app for Mac
Well, showing a Microsoft product to install it in its competitor's device sounds not good. But Apple users have been considering Microsoft To-Do as one of the best task management apps. Especially for the Mac. The first and foremost reason for this is- it's completely free.
However, there is nothing much that will make you overwhelmed. It is just a simple task management tool that comes with a few essential features. You can create and update your weekly or daily to-do list. Even you can add as many custom lists as you want. Later, you can also sort these lists into groups. This comes with such an elegant and clean look. And, you can customize your planner background and give it a look you like. Also, it allows you to manage your list online.
You can also share the lists and other planners with other To-Do users. And, options like reminders, and due date helps you to break your tasks to manage them in an easier way. More you can do is extremely integrate it with Microsoft ecosystem such as Outlook to broaden your work.
Well, for just getting started and who has a low budget, this is one of the best task management apps. For free. However, it has a big con which is having no universal keyboard shortcut for adding tasks. But you can't even get much, especially if it's about without paying a penny.
Conclusion: Best Task Management Apps
As you can see there are multiple task management tools in the market. I have mentioned the 10 best of them that are for various audiences. For example, someone who's looking for a free tool definitely should try the Microsoft To-do. If someone's looking for any amount of features can try Monday.com. Nutcache is good for one who's into Invoicing and billing.
Also, you can search for software specifically designed for your needs. However, I have added most of the useful task management tools. But it could be a chance that you won't find your favorite. So a google search might help you a little, again.
Moreover, let's know what software works for you or what software you're using now. And, don't forget to share the post with one who's looking for a list of the best task management tools.
Also read: 10 Best Screenshot Tools for Mac You Should Use in 2022
Also read: 10 Best Video Converter Apps for Mac in 2022