10 Best Screenshot Tools for Mac You Should Use in 2022
Screenshots are a great piece of content that you can make instantly. And, almost everyone likes them. No matter if it's for a Linkedin post, to create a how-to-do guide, or for employee training, They're just unbeatable. Also, it's best to capture your favorite image on the internet. Not talking about NFTs here, though. This post is all about screenshotting in Mac. Also, for those who are looking for the best screenshot tools for mac. Obviously, in 2022.
How to Take Screenshots in Mac
You can take screenshots on mac without having third-party software. You can capture the screen in different ways such as selected area, window capture, or the entire screen. However, you must know certain commands to do that. And, don't worry about it because, in this post, you'll know all these necessary commands.
Here are the 3 ways that you can use to take screenshots in mac.
1. Command + Shift + 2
One of the easiest ways to take a screenshot in an instant. This is also useful if you want to save something temporarily. Press and hold the COMMAND + SHIFT + "3" simultaneously. Now you can see the captured screenshot saved on your desktop.
Like you might see in Windows, a thumbnail preview of the captured screenshot will appear on the screen's lower right side. You can see that captured screenshot by clicking on the thumbnail. After that, you can also edit your screenshot before saving it on the desktop.
2. Command + Shift + 4
This command allows you to select the section you want to capture. Also, you can specifically select and leave according to your needs.
Here are a few steps to capture the screenshot using this command.
Press the CMD + SHIFT + 4 simultaneously. You will see a small bull's eye appears on the screen.
Use your mouse or touchpad to Click the top-left corner of the area you want to screenshot.
Now Hold and drag the cursor to select all the areas you want to screenshot.
Release when it's done.
You will see a screenshot preview here too. You can click on it to see and edit your image.
3. Command + Shift + 5
However, this command is known for capturing screenshots of your Apple screen. But you can also select from three different options- a full-screen, a window, or a selection screenshot.
You can also record videos of the entire screen or a selected area. Also, you will find two more options for different functions.
Choosing where you want to save the file.
Set a timer of 5-10 seconds that ensures if your capture screenshot did rightly.
Also read: 10 Best Font App for iPhone & iPad Users
10 Best Screenshot Tools for Mac
In Windows, you can take a screenshot by using the Windows Snipping Tool. Also, you can use Crop, draw, and various shipping options in it. On the opposite side, mac's snipping feature only comes with basic functionality.
However, you can use third-party software available in the market. But choosing a suitable software from all the aspects is a question. To solve your confusion, igeekfunnel.com presenting this blog post. In this post, you'll find the 10 Best screenshot tools for mac in 2022.
1. Lightshot: Our Best Screenshot tool for Mac
The list of best screenshot tools would not be completed without this software. Lightshot comes with an easy-to-use UI and it's extremely lightweight. You can easily take a screenshot by following only two steps below:-
Press the print screen button on your keyboard.
Now you can select the area of a screenshot.
And, Voila, you just took a screenshot of your desired area.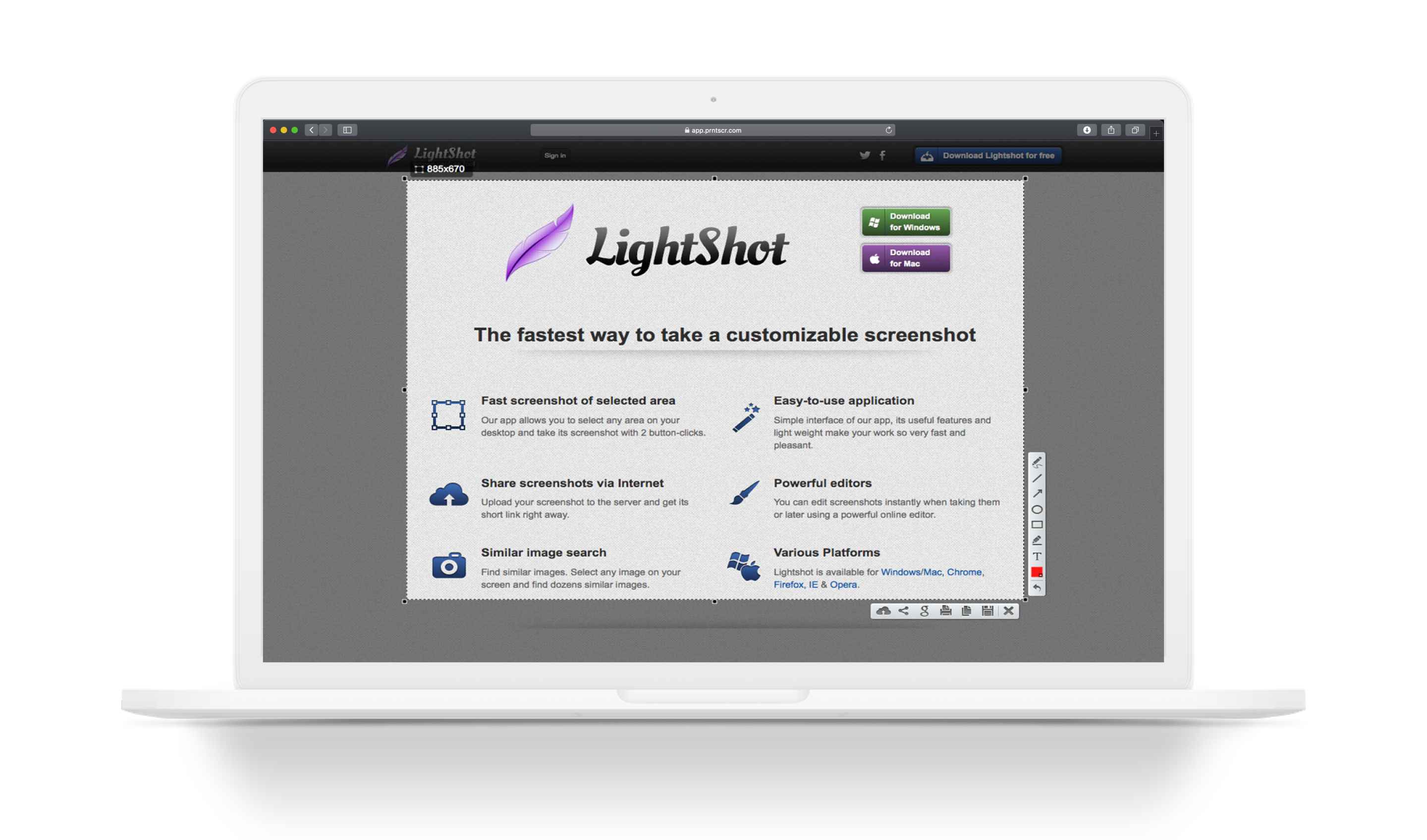 Also, Lightshot has features to edit your screenshots in a variety of ways. Such as text editing, or by adding colors and shapes in your screenshots. You can edit your screenshots by adding text, colors, shapes, and others. Moreover, you can easily capture, save and upload screenshots in Lightshot.
This tool also added a specific website "Prntscr.com" to upload images there, directly. You can search for similar images on Google here. Plus, you can take multiple screenshots in an instant. The cherry on the top, this tool is completely free yet provides you with all the basic features of the screenshot. 
However, it doesn't have a separate editing screen but with these features, it's the best free screenshot tool for mac.
2. Monosnap: One of the Best Screenshot Tools with Advanced Features
Firstly, you can take a screenshot of your entire screen instantly with this tool. Also, you can select your wanted area to take a screenshot. Later, you can edit these pictures with built-in editing tools.
Unlike Lightshot, Monosnap comes with more advanced features like the Blur tool to hide sensitive information. Also, the customizable hotkeys are here to improve your work and productivity flow. You can make even videos and animated GIFs here. And, later you get various save and download options.
It's a bit more advanced than Lightshot so the UI might be overwhelming to non-techy users. Moreover, it's not free. As a result, sometimes it seems a little pushy (by showing ads consistently) to sell you a subscription plan. Still, with free cloud storage and 4.3/5 star ratings on the Apple app store, it's one of the best screenshot tools for mac in 2022.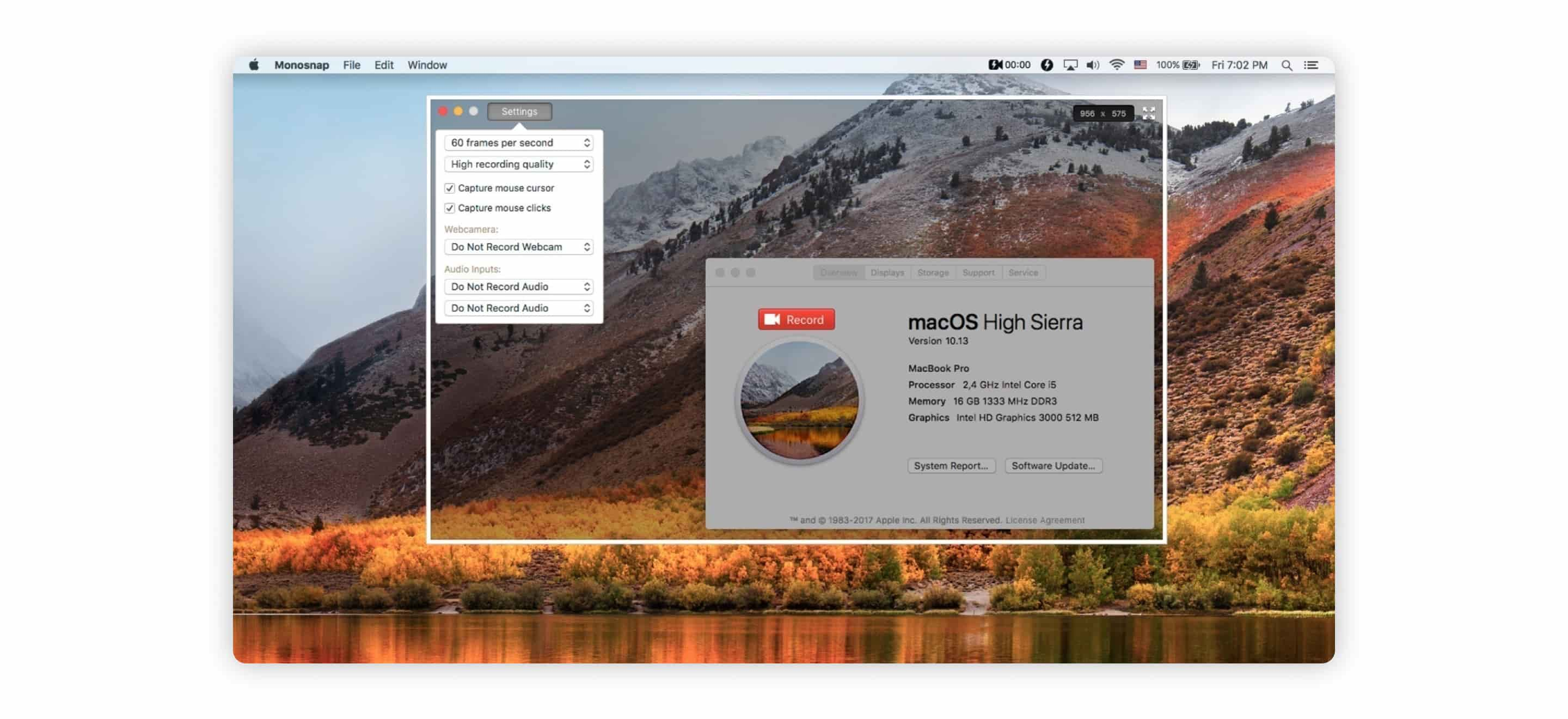 3. SnapNDrag: One of the Best Minimalist Screenshot Tools for Mac
You just saw both free and paid screenshot tools for mac 2022. Now here is SnapNDrag, a snipping tool that comes in both free and paid versions. Like the Lightshot, it is also very easy to use.
Alongside, the free version comes with fewer some basic features such as image searching and renaming. On the other hand, the paid version comes at starting price of $10. It comes with some advanced features such as resizing images, customizable hotkeys, batch rename, and border options. Also, you can capture a window, selected or timed screenshot with only one click, in both versions. Alongside, SnapNDrag comes with the  "Annotate" option using the built-in editor. This function also won't let you lose the original screenshot.
SnapNDrag allows you to save images in different formats like JPG, PNG, and TIFF. Also, you can share images to E-mail, messages, Facebook,k, and Twitter. If you're into pretty simple tools, this could be the best screenshot tool for mac and you.
4. Droplr: One of the Best Screenshot Tool Services
Droplr is available for Mac, Windows, Chromebook and has and Chrome extension. It is a paid tool that comes with 3 days trial version and a starting price of $6. Droplr is a screenshot service with lots of features other than taking screenshots. It targets enterprise customers and largely targets businesses. Alongside, the high-resolution screenshots, it also offers cloud storage and a screen recording service.
You can instantly take a screenshot of the selected area, entire screen, or a full webpage. Furthermore, you can use an image editor to add different shapes to it. Also, it provides some advanced options like adding text or highlighting color. With Droplr, you can do clutter-free recordings of your screen or your webcam. Later, you can create a GIF of it or download it as an HD video.
It provides a link shortener to shorten your link to share via email or Slack. Also, it has 10GB of cloud storage, analytics, multiple download options, and major integrations. If you're serious about your business, this is one of the best screenshot tools for Mac. And, obviously for the other platforms too.
Also read: MacBook Buying Guide: Everything You Need to Know
5. CleanshotX: One of the Best Screenshot Tools for mac with 50+ Features
CleanshotX is a bit more than the above-mentioned screenshot tools for mac. Well, it's way more than just a screenshot tool. As the homepage tells, CleanshotX has 7 apps including 50+ features. Besides taking a screenshot, you can record the screen, recognize text (OCR), and annotate an image here.
The screenshot feature is easy to use and quickly accessible. It works for every app in the mac and can capture scrollable content. Moreover, the screen recording tools come with all essential features. For example, webcam recording, keystroke, mouse click highlights, and a built-in trimming tool. The OCR tool works great and much faster than free apps. Also, the features like pin screenshots, self-destruct control Pro, custom domain, and, ability to hide icons while screen sharing make it a great tool.
You can pay $8/month billed annually and $10/month billed monthly. Plus, you'll get a one-time payment option of $29 for one mac. Also, you'll get a 30-days money-back guarantee. Yes, it's not free. But if you consider these features, it's one of the best screenshot tools for mac.
6. CloudApp's Mac Screenshot App 
CloudApp is much popular among designers, developers, and professional marketers. Alongside, it's much usable in the sales, support, and production department. You can easily download it or you can use it on the web. Besides the mac, it's available on Windows, Linux, and iOS devices.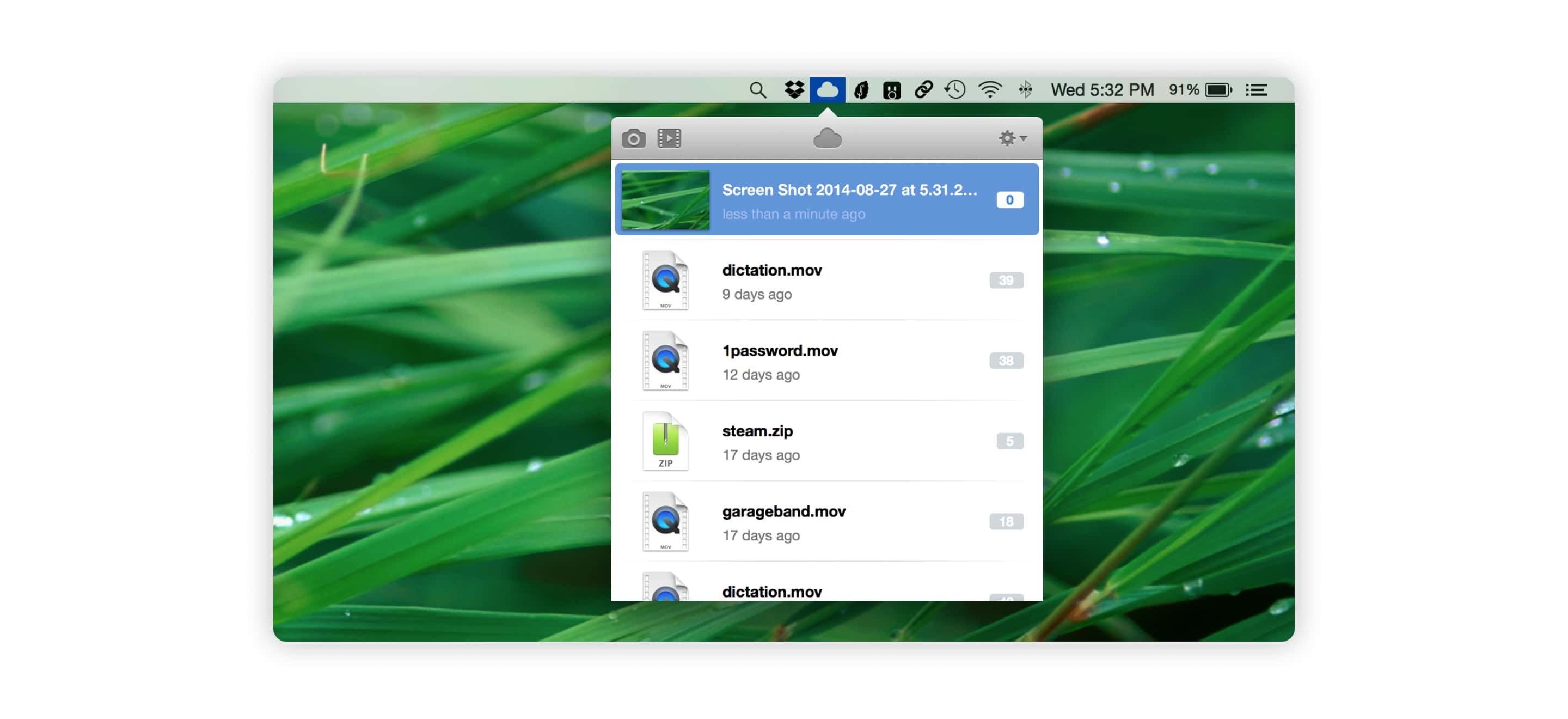 Comes to the features, you can instantly take a screenshot using the keyboard shortcut 'Cmd + Shift + 6. After, you can either annotate the image or save it into the cloud storage. You'll also get a link in your mac's clipboard. You can paste it to the browser or can share it with the email client, as well as on Asana, Slack, Trello, and Google Docs. You can easily share your screen with others using CloudApp. Plus, you can quickly create a GIF or video.
The free version comes with limitations but you will get a 7 days trial with it. Otherwise, you can get the pro version for $9.95. It is not an advanced editing app but it's good for you if you want to click only a couple of screenshots. Especially in free.
As the name says, Loom Screen Recorder takes screenshots and records screens too. Moreover, this tool is much focused on managing your team by communicating effectively. You can quickly take a screenshot, record a screen and send them to your colleagues, friends, or family. Also, you can use your video/image link to share it with your people.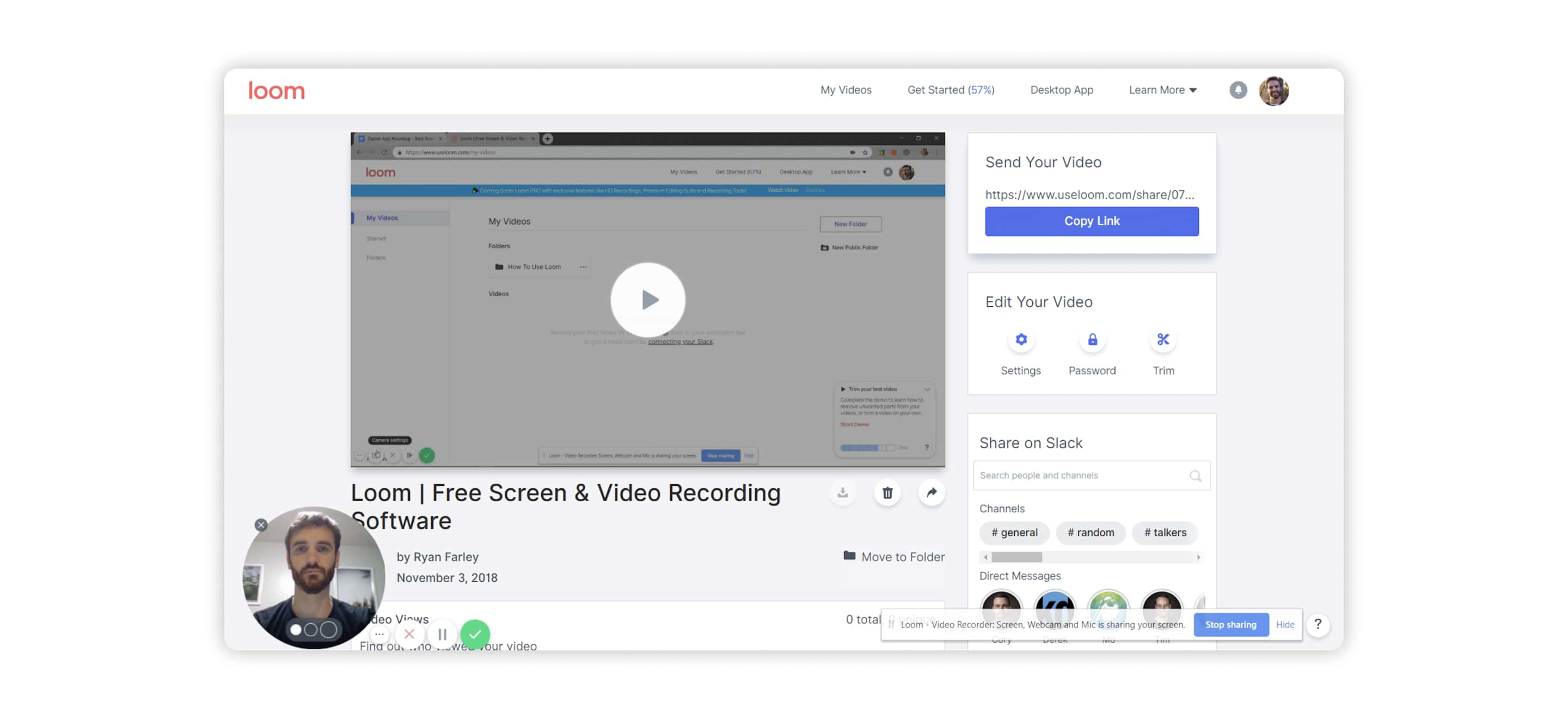 Loom is focused on creating a video around your idea rather than writing a wall of text. Also, it comes with an ultra-simple and a clean UI. You won't get overwhelmed by seeing the options of Loom.
It comes with Starter and Business pack. The starter pack is free and comes with some limitations- 25 videos/person or 5-minutes/video, etc. You can break these limitations by buying the business pack for $8/month annually. You can get a 14-day free trial pack. The thing I liked the most- Loom provides free accounts if it's for educational purposes.
Loom is available on Mac, Windows, Android, and even on the Chrome extensions library. As a minimalist, I'd say, it is one of the free yet best screenshot tools for mac in 2022.
8. Snagit: Kinda Expensive, but Has Useful Features
Snagit is a kind of expensive tool, with a price tag of $49.95/lifetime. But only if you see it as a screenshot tool for mac. It is more like a picture editor to me that comes with lots of useful features. You can take screenshots of the desktop window, selected area, or a scrolling screen. But you can also grab text from a picture that you can change later. You can take a panoramic screenshot.
Also, you can record the webcam, screen, audio of your Mac as well as iOS. You can trim videos, create a GIF or create a video from images. You can also share all the data between all the synced computers. Moreover, you can share all these files with other major applications. For example, Microsoft Excel, Gmail, Camtasia Dropbox, or Slack. There is also a library of pre-made layouts. You can use these templates to create tutorials, documentation, or training.
Moreover, features like Smart Move, Step Tool, Simplify Tool, and Stamps make it more than a screenshot tool. Plus, the simple and intuitive UI tool helps you to take screenshots in an instant. No matter, if you're tech-savvy or not. Also, you can get a 14-days trial to see if this works for you or not. But one can't deny the fact that it's one of the top feature-rich screenshot tools for mac.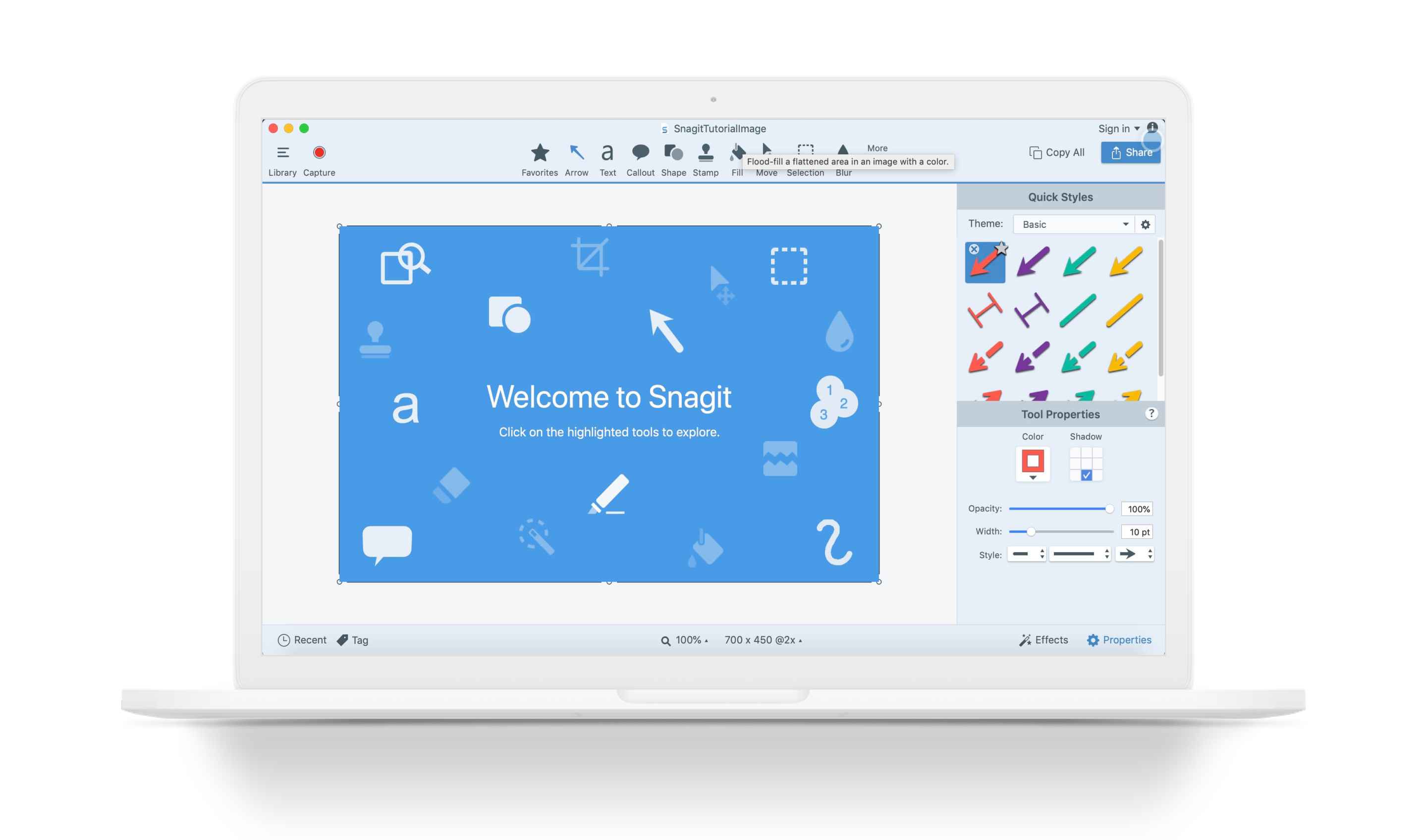 9. Skitch: Best Screenshot Tool for Evernote Users
Skitch is a very preferable screenshot tool for many businesses. It is owned and designed by Evernote. It is simple, effective, and featured with a clean UI. However, it might not seem effective for you if you don't use Evernote. But for Evernote users, it's a boon. You can easily integrate Evernote with Skitch. Moreover, it is available for Mac, iOS, Windows, as well as Android.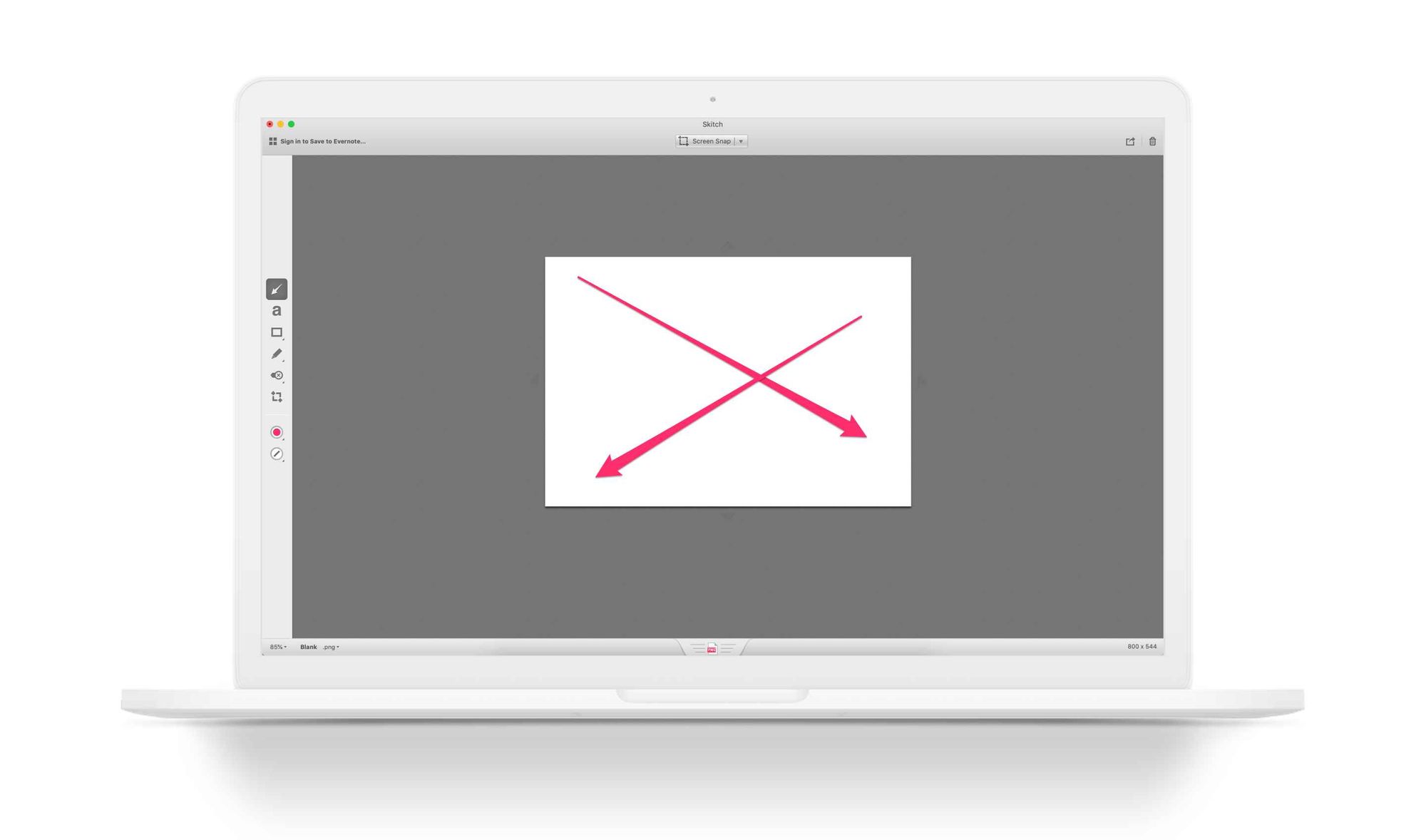 Skitch comes with seven tools. You can take screenshots, add shapes, and text to the images. You can even highlight and color the image. Also, you can draw on them and blur specific areas to hide private information. The settings of Switch are so easy that even a newbie will learn it in an instant. You can even select the area while taking the screenshot. The area you want to include and the area you want to hide.
You will see eight colors to choose from that you can apply to your images. After the final image, you can send it via text message, or email. You can also share it with Evernote or to the photos app. A big drawback is here that you can't save the final image in your local file. Other than that, Switch is very lovable to all users.
10. Captur: Who Only Want to Capture Image
Captur is made by its owner after keeping only one goal in mind- Keep it Simple. This tool doesn't provide you with an overwhelming amount of options or fancy editing tools. Also, you won't find any social media integration like the others on this list. But if you also have only one goal- taking screenshots in an instant then this is the one.
You can capture full screen, selected area, and windows screen according to your needs. After having these screenshots, you can save them or edit them in the preview option. However, macOS built-in screenshot tool offers the same but Captur gives you a little more than that. For some users, this might not sound intriguing but if you're not into any fancy tool such as OCR, or annotation then you must try Captur.
Conclusion
Taking screenshots is also possible without installing a 3rd party tool. But you've to follow a few steps to do that. Also, you must have known the keyboard commands of capturing the images. For some users, it will be a little overwhelming. These users can use one of the above screenshot tools for mac. These screenshot tools allow you to capture screenshots in an instant. Also, you can create various types of content using their extra features like annotations, blur options, or OCR.
So this is the list of best screenshot tools for mac. Hope you find your soulmate screenshotter in this list. And, if it happens let us know in the comments. And, don't forget to share this post with one who's looking for a screenshot app for mac.
Also read: 10 Best Video Converter Apps for Mac
Also read: 7 Best Mac Mini Mount: Top Picks