How to Reset iPad: Soft Reset, Force Reset, and Restore iPad to Factory Settings iPad is troubling you? Is the frozen screen testing your patience? Our step-by-step guide of reset iPad and the conditions that define the way you should reset iPad. Sometimes your iPad might suffer from sluggish behavior and malfunctioning. It usually happens because many apps are downloaded on your iPad.
Or it could be the multi-functionality of apps in the background, which causes lagging and crashing of apps, slow running speed, etc. We know how much you love your iPad. Through this blog, learn all about how to reset iPad, soft reset, force restart, and reset iPad to factory settings. At the end of the blog, we'll tell you about one app to keep your data safe before factory reset and other ways to keep a check on sluggish behavior.
Why Your iPad Needs Reset?
There are three different kinds of reset you could perform to tackle various lagging problems.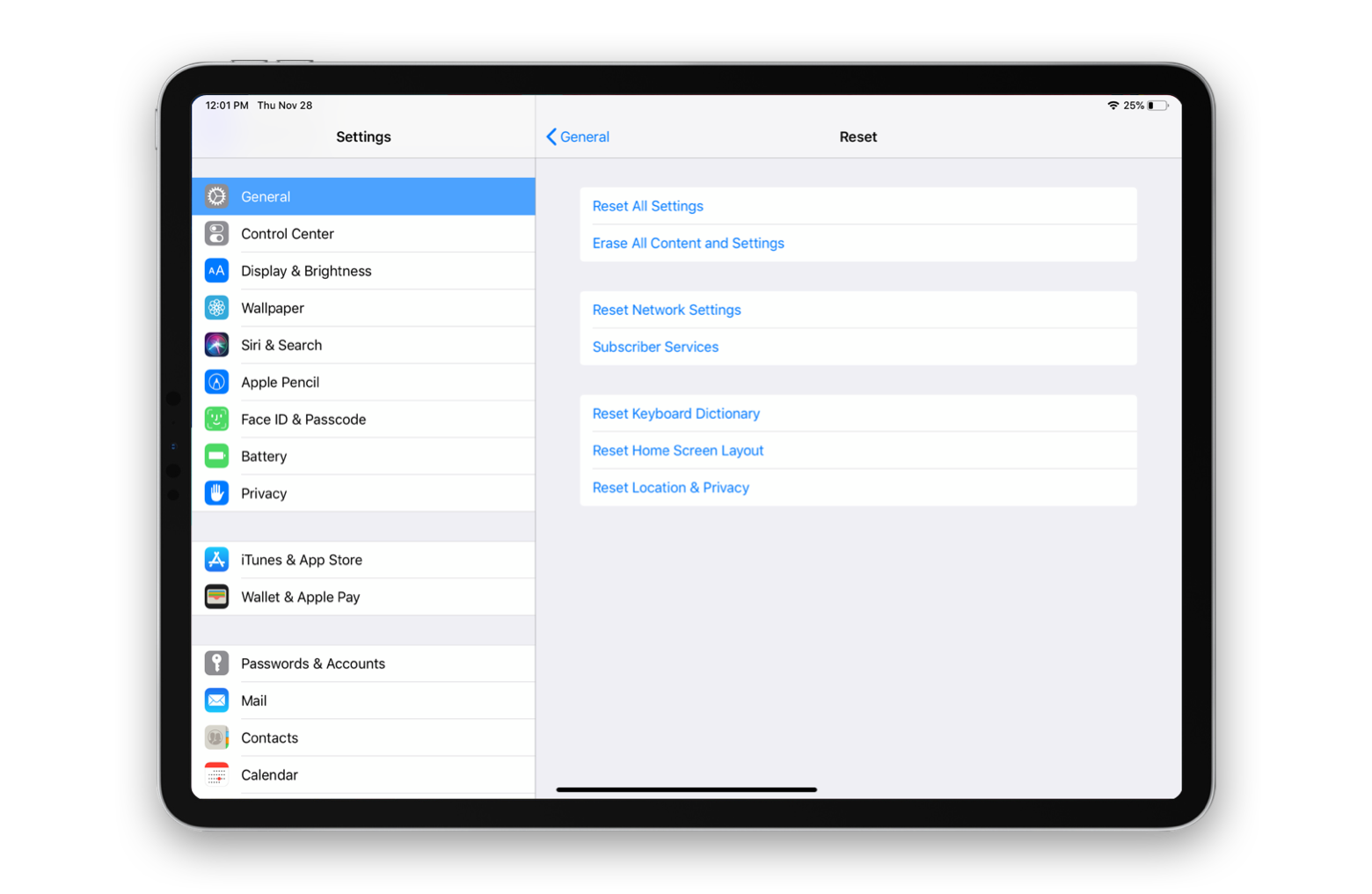 If your iPad is slower than usual, apps have frozen, or a glitch in the display appeared, consider opting for a

soft reset.

It will clear all the problems instantly, and it is way easier than you think it is to do. 

If your iPad's screen is unresponsive, a soft reset would not be able to fix the problem. You can opt for

force restart. 

If all the above problems occur and nothing helps, a

factory reset

would be here for the resume. Do not fret before going with a factory reset. We will tell you all about how to

back up your data and never lose it again.



In case everything is fine with the iPad, and it is erasing all data you want. We have covered that too. 
Learn from step by step guide to reset your iPad. 
How to Conduct Soft Reset
What is a soft reset? It is simply switching your iPad off and on again, and sometimes it works like magic to all the lagging issues. Generally, when your iPad is unresponsive, or the cluttered user data has frozen, your apps or games won't play. It is recommended to go for a soft reset. This simple universal troubleshooting method would help you. 
Here is the step by step guide to soft reset:
Press and hold the

power button

until a slider appears on your screen. As for the 2020 iPad Pro, iPad mini, or most iPads, the slider will appear on the top edge, and as for older iPads, it will be on the side of your screen. 

Drag the slider from left to right and sitch your iPad off. 

Once this is done, press the

power button

again till you see the Apple logo appear on your screen. Now let go of the power button. 

It will be switched on in a few seconds. Now you can operate your phone lag-free.  
How to Force Restart your iPad
What if the screen has frozen and is unresponsive? Don't panic. Using force reset, you would not lose any data and will be able to rectify your iPad's problems. What is force restart? It is just an alternative method of turning your iPad off and on again. So if your screen is unresponsive and any button is not working, opt for a factory reset. 
As you know, some iPads come with Home Buttons and some without a home button. Learn about both of them. Here is how to factory reset your iPad with the home button:
Press the

power button

and

home button

simultaneously and hold for some seconds. 

The iPad will turn off and reboot. Release the buttons once the Apple logo appears.

Here is how to factory reset an iPad without a home button:

Press and release within a few seconds the volume up button.

Then press and release the volume down button. 

Press and hold the Power button until it restarts.

How to Reset iPad to factory settings


Sometimes all you can access on your iPad is your frustrating face reflecting on the black screen. In this case, soft reset or force restart would not help. The only resort that remains is the factory reset. It erases all the stored data and makes the system empty. Kindly take this note that after resetting, all your data will be gone permanently. 
So before resetting the iPad to factory settings, make sure to back up the data in iTunes or iCloud. Do not forget to read about one tool to keep iPad data safe in any reset at the end of the blog. Note: After backing up, then only proceed to factory reset. Before proceeding to factory reset, here how you will back up your data on iPad using iTunes/Finder:
Back up Data using iTunes/Finder:
Connect the iPad to the computer using a USB cable. Both devices should have a proper internet connection. 

Open iTunes on macOS 10.14 or Finder on macOS 10.15

Complete the on-screen instructions.

Tap on your name of the device.

Click on

back up now.
Back up data using iCloud:
Open Settings and tap on the device name.

Now tap on iCloud.

Go to iCloud backup.

Tap back up now.
The only limitation present in iCloud is limited storage. It comes with an introductory free 5 GB storage, and afterwards, you have to purchase more storage. In the skirt of other programs, we sometimes forget to check the available storage. And space runs out and data, might not be stored after the limit. We suggest you monitor your data storage regularly. 
A Tool to Keep Data Safe in any Reset:
AnyTrans is one solution to all problems related to backup. It allows you to store and backup without any limitations, and it syncs regularly. Additionally, you can also schedule regular backups to keep a reminder in check of the storage. Here how this works:
Install

Anytrans for iOS on Mac. 

Connect iPad to Mac. 

Open the

AnyTrans

app and tap on "Backup Manager."

From the list of files available for backup, tick the boxes to select specifics or select all if you want.

Choose the file location where you want to store the data. Tap on "Next Button" to initiate the process of backing up. 

It will avail you a choice to choose files which you want to back up. You won't find this feature in iTunes or iCloud. 
After backing up your data safely, proceed to the final step that is the factory reset. 
How to Factory Reset iPad:
Here is how to factory reset your iPad:
Go to settings. Under the General column, select "Reset" and tap on "Erase All Content and Settings." 

Select "Erase iPad and confirm." 

After restoring the iPad, the original setup screen will appear on your screen. Now you can choose between set it up as new or restore your backup. 
Now, what if you realize you do not remember the passcode. You require it to factory reset your iPad. Do not panic, and read about how to reset without a passcode.
How to Reset without a Passcode
Password is the key to get access to your iPad. And forgetting it would not be an option. And what if you do forget. Do not panic. You can hard reset the iPad and remove the passcode. 
Connect iPad to your computer. 

Press the

power button and home button

at the same time. 

Release when you see the

recovery mode screen

appeared on the screen.

Locate the connected device on Mac. 

Tap on

restore.

When the process is complete, proceed to set up your device.

Now you can

factory reset without a passcode.
Conclusion:
Always remember what type of reset is suitable for different glitches, as mentioned above. Sometimes, it takes a simple soft reset to solve the issues. Sometimes, the only resort to fix the black fixated screen is to factory reset your iPad. We strongly recommend backup your data before resetting your iPad. You can avail subscription to the AnyTrans app at a pocket-friendly price and secure and keep your data protected.  
Follow us for more content like this, and never let the glitches take away your fun. 
Read Next: