10 Best External Microphones for iPhone in 2023
In this age of content creation, an external microphone becomes an essential gadget. iPhone has a pretty decent audio capture capability. But only if we are talking about audio calling and creating casual notes. If you are a content creator, a YouTuber, Steamer, or recording a podcast, then an external microphone is a must for you. They are great at delivering crisp and clear voices after canceling background noises.
And, if you are looking for the best external microphone for iPhone, you got the right place. Igeekfunnel created a blog post on the 10 best external microphones for iPhone. We represent a list of mics that have been arranged by different parameters, preferences, and budgets. We also tried to list microphones for various kinds of audiences. You will definitely find your suitable one on this list. No matter if you are doing a YouTube video or recording a podcast.
Moreover, we also created a list of different preferences that help you to choose the best microphone for you.
Now get into this.
What is an External Microphone?
Before answering this question, I'd like to tell you more about the types of microphones. So there are two kinds of microphones we're seeing in most of the devices.
Internal Microphone
Internal microphone, also known as a built-in microphone. As the name suggests, these kinds of microphones you will see on your computer or smartphones.
External Microphone
Now, this is the answer that we're looking for. An external microphone is a microphone that we add to your device externally via USB, Bluetooth, WiFi, or any kind of connection.
Why You Should Choose External Microphones?
Now we know the types of microphones but let's see why you should choose an external microphone. The built-in microphone usually doesn't come with such premium quality. These are designed to follow some specific conditions. Though, few companies are improving the quality over time because everyone is going for content creation.
But still, there is a limit that an internal microphone can't cross. You also might have noticed that you've to speak louder on a video call while using the internal microphone of your device. So your call participants could hear you. Also, you might have noticed the background noises while attending a call or doing a recording. Another problem you'll see while using an internal microphone is that you've to mute your mic to remove transmitted or background noises.
Internal microphones usually catch noises from all directions. So you get so much background noise while using them. Even in an isolated environment, you can't record your voice without expecting a few background noises.
On the other hand, you can solve all these problems using an external microphone. External microphones come with sophisticated construction as compared to internal microphones. And, you will be able to record a professional-grade voiceover using an external microphone.
You will get two popular categories in external microphones- dynamic or condenser microphones.
Dynamic microphones are based on electromagnetic induction. The sound moves the diaphragm that is connected to a coil of wire suspended in a magnetic field. After that, it will create an electric audio signal. As a result, it becomes an ideal choice for recording louder sound sources.
Here is an example of a dynamic microphone:
Now we come to the condenser microphones which are more popular than the dynamic microphones. These microphone types convert sound into an electric signal by using a capacitor. That's the reason they require a constant and higher source of power to operate. Condenser microphones are ideal for recording quiet soundscapes, such as inside a studio. These microphones are sensitive but also produce sound with higher quality.
Here is the visual example of a Condenser microphone:
How to Choose the Best External Microphone for iPhone?
External microphones seem like tiny gadgets with a straightforward mechanism- delivering your voice to another device. Well, yes, it does exactly that but you can't pick any random microphone from a Black Friday sale. So what you should look out for before picking up an iPhone? We made a checklist of 5 specialities that you must check before clicking the yellow buy button.
So let's head down to these 5 things.
1. The Microphone Types
Microphones come in various types. And, every type will help you to achieve a certain task, differently. Also, some mic is made for only a few audio applications. So you must be sure before choosing a certain microphone if it's suitable for the task you want to accomplish.
Here are some common types of microphones:
Lavalier Microphone
It is the most famous external microphone for creating various kinds of content. For example, vlogging, travel journalism, interview, etc. You can attach these mics to the cloth of a person who is speaking. They are tiny ones, easy to carry, hidden, and often used for close miking sound sources. These mics are also known as lapel or body mics.
Below is the picture of Boya BY-DM1 Lighting, a famous Lavalier external microphone.
Desktop Microphone
As the name says, these mics are for desktop usage. But to be specific, you can easily attach these mics to a table or on a mic stand. These mics are heavy and sizable as compared to lavalier microphones. However, these are sturdy and reliable, just after you have done with the setup. These are famous for creating podcast interviews, monologues, or music.
Here is the visual example of Apogee HypeMiC :
Handheld Microphone: 
These mics are great for ongoing reporting or interviewing. These are a little heavier than the lavalier mics but easy to carry and handle. These microphones are designed to behold in a hand while connecting with a smartphone.
Here is the MXL MM130 as an example of a handhold microphone:
Wireless Microphones: 
A wireless external microphone comes with a huge advantage. You can easily set them up to start your production. Also, these microphones are very handy and save you from a complicated problem- the entanglement of cables. It's definitely a lifesaver when you're out of time and energy. You can get a Wi-Fi wireless mic or a mic with Bluetooth connection support. You can use these two features of wireless external microphones to connect it with a camera or a smartphone.
Here is the Rode Microphones Wireless GO II as an example of a wireless microphone:
Now you know about the common types of external microphones. Also, you know the work usage and their specific advantages. Just know your preferences and choose what kind of external mic suits best for you.
Attached/clip-on Microphone: 
Don't get confused between this type of mic and the lavalier microphones. These mics are designed to be attached to smartphones or their accessories. Also, these mics are a little bigger than the lavalier ones. You can use them to improve the audio quality of a smartphone, without getting tangled with the cables. These microphones are clicked and ready to go. And, you can easily maintain their positions while having questionable interviews.
Shure MV88 as an example of attached/clip-on mics:
Now you'll get to know two types of audio Mono and Stereo. Mono is mostly used for vocals and produces the same audio output from both speakers. Mono audio sounds good wherever you listen to it. While stereo is a little different and produces sounds far more accurately as live music is perceived by listeners. Stereo mics allow you to capture audio that will sound more natural to hear.
Zoom iQ7 as an example of stereo microphone:
2. Audio Connection
Like the microphone type, there are various kinds of audio connection types. Actually, there are 3 major connection types. Later the graph gets a little broad. Still, it's an essential step to know before picking up an external microphone. when connecting an external microphone to your smartphone.
So let's talk about the 3 connection type first. Later we'll talk about their predecessors.
Here are the three main ways to connect your external microphone with your iPhone:
Charging Port
Bluetooth
3.5 mm Headphone Jack
1. Charging Port
Apple cut out the headphone jack part in an iPhone a long ago. So it is only left out with a single hardware connection which is the charging point. Now iPhone comes with a Lightning port while other smartphones usually come with a USB Type-C port. Some of the phones still have a micro-USB port but it is getting faded with time.
Let's talk about them in a little more detail.
Lightning Port: Apple created and designed a lightning port on September 12 of 2012. It is an 8-pin digital connector that replaced its predecessor, the 30-pin dock connector. Since the iPhone 5, Apple has been using it as a standard charging port. However, a few smartphones brand started using it as a charging point but it's still best known only to Apple. Here is what a Lightning connector in iPhone 6 looks like, visually:
USB Type-C: It is the most famous and ongoing charging point running right now. Type-C port is a 24-pin two-fold rotationally symmetrical USB design. This USB-C design was launched at the year of 2014. And, nowadays, almost every smartphone, rather than Apple, is coming with a Type-C port.
Micro-USB: I'd say, It's one of the outdated charging types in the smartphone market. USB-A and USB-B come in the list of the Micro-USB charging port. And, both ports come with the 5 pins. Here is the visual of Micro-USB:
2. Bluetooth
Above all these connection types, an external microphone could be connected through Bluetooth technology, wirelessly. However, not everyone is considering Bluetooth wireless technology. Many of Bluetooth microphone users criticize their connectivity stability. They told me it is needed to be improved.  So there are only a few external microphones that work actually good with wireless connectivity.
3. 3.5 mm Headphone Jack
Apple has omitted the headphone jacks from iPhone since iPhone 7 in 2016. However, many other smartphone brands followed the trend. But don't stop reading here just because iPhone is not supporting a 3.5 mm headphone jack. These are the basic facts that you must know before buying external microphones. So you might not end up picking the incompatible equipment.
A 3.5 headphone jack comes with three types as below:
1. TS Type: This audio jack type comes with no left and right because it doesn't support stereo sound and a microphone. This isn't usable in most devices except musical equipment such as electric guitars or aviation radios.
Here is a visual example of TS type audio jack.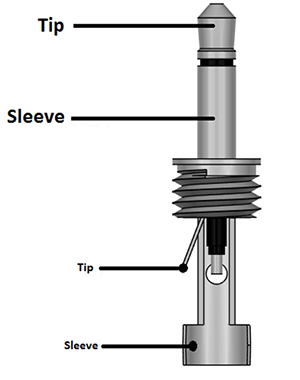 2. TRS Type: The full form of TRS is as below:
T: Tip
R: Ring
S: Sleeve
These kinds of audio jacks support stereo sound but don't support microphones. In simple words, you can't use them to talk on calls or to record your voice. However, these audio jacks work fine to listen to music.
Here is the visual graphic of a TRS type male audio jack: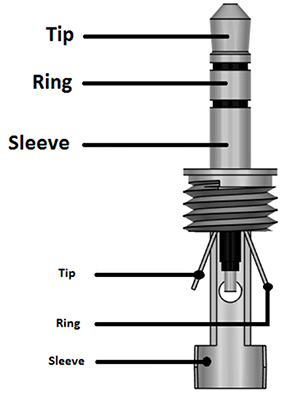 3. TRRS Type: The full form of TRRS as below:
T: Tip
R: Ring
R: Ring
S: Sleeve
Now here is the standard 3.5 mm headphone jack type which is (1/8″) TRRS connection. TRRS means Tip Ring Ring Sleeve. This connection allows you to use it as an output for headphones. Also, it work as an input for microphones.
This type is the most popular in smartphones and tablets. It has two major types such as OMTP and CTIA.
OMTP is an old standard used for some old models in Nokia, Samsung, and Sony. Meanwhile, CITIA is mostly used in newer models of HTC, Sony, Samsung, Apple, Microsoft, Nokia, and Blackberry.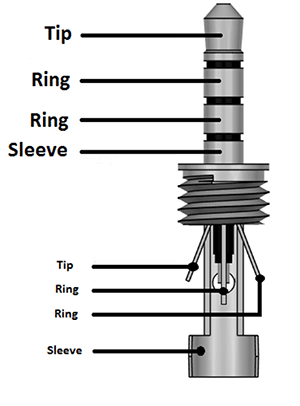 3. Check the Required Hardware Connection
You might know the fact that most smartphones have digital inputs, such as Lightning, USB-C, etc. On the other hand, microphones usually have analogue inputs, such as 3.5 mm. As a result, you might need an adapter to use your microphone with your phone. These adapters convert analogue signals to digital audio to use in your smartphone.
An adapter can turn a Type-C external microphone into a lightning connector. So you'll be able to use a Type-C external microphone with your iPhone.
Let's have a look at some examples here:
Apple lighting to 3.5 mm TRRS adapter to connect analogue 3.5 mm TRRS external microphone with your iPhone
Here is the adapter to adapt n XLR input to a Lightning or USB-C output, from Saramonics.
However, smartphones are not that sturdy and easily could be broken. And, a protective case works pretty good to save it from an accidental drop. If you're going to buy an attachable smartphone microphone, you must know the fact that you have to remove the smartphone's case to attach it to your phone.
So if you're planning to buy an attachable external microphone, prepare yourself that your iPhone might be at risk. However, you might use a tripod mount to use it as a protective case for your iPhone. It holds iPhone tightly while shooting or recording a video with your iPhone.
Here is a visual example of the EACHSHOT Smartphone Video Mic Kit:
4. Software Compatibility
There are different kinds of external microphones available in the market. And, every external microphone has different features as well as compatibility functions. Some of them come with "Plug n Play" feature while others require a proper software installation to work properly.
Moreover, most of external microphones come with their own recording app software. But not always. So you must know before buying a microphone if it's software compatible or not. And, if you would have to go through a software installation, how steep the learning curve is.
However, microphones with TRRS plugs and output analogue audio don't require software. Meanwhile, microphones with Bluetooth or wirelessly connection supported require software installation.
5. Budget
Before going with any external microphone, please check if it fits in your budget or not.
You can make a list of all the above requirements. After that, you can choose a list of desired external microphones you like. Now get the one that suits your budget the most. Also, choose one which allows you to make fewer compromises with the features you need.
So that was the list of things you must consider before buying an external microphone. Now, to save your time, we also created a list of 10 best external microphones for your iPhone.
So let's head to the list.
10 Best External Microphones for iPhone
When it comes to external microphones for recording podcasts or Youtube videos, nothing could beat the Logitech Blue Yeti USB mic. It is an all-purpose microphone that allows you to do a couple of things besides just recording.
Blue Yeti USB mic is popular among all content creators, YouTubers, and geeks. You can use it to record voiceover, or for attending video calls, whether it's personal or professional one. Blue Yeti produce clear and crisp audio quality, thanks to its custom three capsule array. You can use it for various types of videos such as advertisements, storytelling, music video, vlog, gaming, etc. Moreover, it comes with a range of custom enhancements and voice effects. So you can also change your voice according to a particular tone with Blue Yeti.
The four pickup patterns- omni, stereo, flexible cardiod, and bidirectional minimize the audio loss. And, you won't have to setup multiple mics. Meanwhile, the premium finish and onboard controls make it a beauty with the beast.  It looks very sassy on your work table and allows you to control major functions through mic itself. Onboard controls like headphone volume, pattern selection, instant mute are here to easier your recording and streaming process. Plus, the plug-n-play feature supported by USB cut out the installation hassle.
Besides, Blue Yeti is an eco-friendly product as you see the Climate Pledge Friendly icon on Amazon. This means company use its broken parts to build another product. However, this is showing in United States. When you will change the country to India, it won't show the same sign for the same product. Don't know if it's a mistake or a bug. Still, this product is the top external microphone for iPhone, especially for creators.
Logitech's Blue Yeti mic is awesome. No doubt. But if you want an external microphone at a lesser price then here is #2. Movo VRX10 universal mic comes at a price which is half the price of Blue Yeti.
Movo VRX10 is lightweight as it's a lavalier mic that can easily fit on your iPhone. Also, you can easily carry it with yourself if you're going to interview someone. This external microphone is compatible with all devices whether it's a camcorder or an iPhone. However, It comes with a 3.5mm jack. So you might be needed a 3.5mm to lightning convertor to connect it with your iPhone.
Moreover, this microphone doesn't need a battery to keep itself on. It is just plug-n-play external microphone that you can carry anywhere and use anytime. The microphone comes with an aluminum build that a makes it a durable  and sturdy product. So you don't have to worry about if it will slips out from your hand. Nothing is gonna happen to it anyway.
Movo mic is best for creators, especially who records Youtube Vlogs, Tik Tok, vacation trips, and voiceovers. You will get a Furry "Deadcat" Windscreen, and a Soft Carrying Case, and a shock mount with it. Also, you will get a 3.5mm TRS Output Cable (For DSLR Cameras, Camcorders, Recorders), 3.5mm TRRS Output Cable (For Smartphones, Tablets, and Mac) with it.
Besides, it comes with a 1-year warranty and US-based customer support. So you won't have to worry about if, for god's sake something is gonna happen to it. However, only a few users mentioned that it records click and clunks sound while moving around but as its lower price and for a beginner Youtuber, it is the best external microphone for iPhone.
We can't miss this microphone for the list of best external microphone. Especially if it's about iPhone. Shure MV88 portable iOS microphone as the name suggest, it's Apple Mfi certified compatible. It means Apple officially announced it as a product that works with iPhones very well.
Moreover, this product has 4.4 out of 5 stars ratings from 2851 globally ratings. And, Shure is a well-known brand for its premium quality and a sturdy build. This external microphone comes with all-metal construction. As a result, you don't have to worry about if you throw something at it, accidently. It can handle that damage very well. Even though it's a clip-on mic.
Shure MV88 has Mid-side architecture that produces phase-perfect and clear stereo voice quality. The control over DSP mode selection, microphone gain, stereo width, and raw-mid-side adjustments remove extra noises very well. Moreover, it comes with a black foam windscreen as hardware too. That also helps it to remove all the background noises while recording in outdoors. Also, the SPL of 120dB feature allows you to record live concerts very smoothly.
Furthermore, Shure MV88 is considered as a powerful mic with amazing features. You can easily record loud and medium-level sounds with it. However, it has the frequency range of 20Hz to 20KHz but you can gain from 0 to +32dB via some adjustments. Still, you've to increase the record volume if your target's volume is way quieter. It's portable and can fit in your pocket. So you have not to carry a bulky bag everywhere you'll go to record. The multi-rotational movement allows you to record from different angles.
This comes with an app to edit audio and support lightning connecting technology. And, the quality zipper case and cable for headphone monitoring make it the best external microphone for iPhone.
Like the MOVO VRX10, JOBY's compact external microphone is an ideal choice for smartphones or mirrorless cameras. It comes with only 0.4 pounds which makes it extremely lightweight and easy to carry. If you are into travel vlogging this little gadget would be your ideal companion.
The JOBY external microphone is one of the most affordable microphones for iPhones. However, it comes with a plastic build and is only in black color. On the other hand, MOVO's mic has an aluminum body which is preferable to some users. Moreover, the plastic build and its extremely lightweight body can easily retain itself from a sudden fall.
You don't need to set up cords and all that to start recording. It is a Plug-n-Play microphone, without the requirement of the battery. So just plug it and start recording anywhere, anytime. It comes with a 3.5 mm connection which is easily accessible for most Android phones. Though, to use it with iPhone, you've to buy lightning to 3.5mm jack separately. You will get a shock mount and tripod attachment with it. It can be used with any number of iPhones and Camera tripods.
JOBY isn't such a famous brand as Shure or Rode and doesn't come with any extras. Still, it does its job very well when comes to vlogging or interviews. You can also search for the JOBY GorillaPod kit to improve your recording quality and stability as well.
If you are only interested in external microphones from famous brands, then here is Rode Video Micro compact mic. This external microphone cost very low for a big brand like Rode.
As you can expect from Rode, it has 4.1 out of 5 stars from 17,416 global ratings. So if you buy a product based on high rating reviews and low budget price, then you might like it. As the manufacturer said, this mic is designed to improve the audio quality of your videos. They called it a high-quality cardioid condenser microphone capsule that you can use with a wide range of cameras. It reduces the distracting sounds and with its directional build, it only records audio in front of a camera. The brand mentioned that it provides more natural sounds when it comes to indoor recording.
The body is made from aluminum which gives it a high level of RF rejection. Also, the high-grade ceramic anti-glare black coating gives it a premium look. Moreover, the camera shoe mount features a Rycote Lyre shock mount. And, a suspension structure composed of a hard-wearing thermoplastic minimizes the unwanted vibrations. That feature also reduces the unwanted click sounds that mic captures while recording. On the top, you get WS9 synthetic furry wind shield with foam inner cell. It is designed to use in outdoor scenarios without getting interrupted by environmental noises, such as wind.
It comes with a compact size of only 80mm (3') long and weighs 42gm. Also, you will get a TRS to TRRS cable to use this external microphone with your phone. Rode also provides a 1-year warranty with this microphone that you can extend for 2 years. Like the above-mentioned mics, it also does not require a battery. You can get a crystal clear sound using video applications such as Periscope. This product is designed and manufactured in Australia and is one of the best external microphones for iPhones. 
IK Multimedia IRIG Cast is an ideal external microphone for recording group discussions or interviews. This microphone features a stereo mini-jack headphone output. As a result, you will get a real-time monitoring of what you're recording at the moment. Also, you can check- are you recording from headphone or speaker.
It weighs 22.7 gms and has the dimensions as LxWxH 32 x 5 x 32 Millimeters. These specifications show how tiny and lightweight it is. And, you can carry it with you while travelling anywhere. Meanwhile, you'll see a small switch on this microphone. You can use this switch to adjust the input between low and high. Also, this mic features the ability to monitor the audio passing through the mic.
Moreover, this mic has a 3.5mm standard jack which is suitable for iPhone 6 or older models. To record the voice in iPhone 7 and newer models, you've to purchase separate lightning to 3.5mm convertor. You will get 2 free apps- iRig Recorder and, VocaLive with it. You can use these two apps to edit your recorded voiceovers and to upskill your content. Compact condenser feature allows you to record sounds at a fine quality. And, the undirectional design remove the unwanted sounds while recording a particular voice from a certain direction.
It has quite a fair price for the quality you're getting in this microphone. Moreover, it works with all the popular audio voices. But the feature that impress me the most is that it has a bumper-friendly design. That means you can plug it in your phone without removing its phone case. By considering these features, this is one of the budget external microphones for your iPhone.
This might be a perfect external microphone for your iPhone. However, I will tell you why it's at the #7 on this list. Well, it cost a little expensive. So if you're looking for a budget one, skip this one.
Apogee MiC Plus is a professional cardioid condenser microphone capsule. It features a digital connection for premium sound quality up to 24-bit/96kHz. When it comes to brand, Apogee is a big player in the audio and recording market since its early days. The all products of Apogee is known for offering superior audio quality.
Now this is the costlier external microphone on this list but if it is your pick if you need a microphone for studio quality. Also, the mic we're talking about is specifically designed for iOS devices. Moreover, it also support hassle-free connection with Windows and Android devices. The large diaphragm capsule and its high sensitivity record flawlessly in an isolated environment.
Audio enthusiast like producers, singers always look for professional setting and studio voice quality. And, this mic provides the same. 46dB of mic preamp gain that can be digitally controlled and give you great precision. Meanwhile, the powerful headphone output provides you zero latency recording with its blend feature. Also, you don't have to read a bunch of manual to get started with this. Just plug-in and start recording.
Apogee mic plus has a dimension of 5.02 x 2.13 x 7.8 inches and weighs only 1 pound. You can easily setup this external microphone using its desktop stand and mic stand adapter. Besides, you get Lightning iOS cable, USB cable (Type C), USB cable (Type A), Desktop tripod stand, Microphone stand adapter, and a Quickstart guide, and mic itself. Yes, it's expensive but with 4.4 out of 5 ratings and its studio quality, it's a one of the bestest in the list. 
Now, this is the most budget-friendly external microphone you'll see in this list. And, probably you won't see any cheaper mic on other publications' lists that ranked on the first page of Google. It comes at a very cheap price. However, you can't judge its capability by only seeing its price. This external microphone has 4.3 out of 5 stars ratings from 3267 global ratings. Plus, it also come with the tag of "Amazon Choice", definitely to increase its credibility.
When you will visit the Ttstar store page, you won't see much electronics items. Besides, you'll see the store is more focused on manufacturing diffuser jewelry rather than microphones. Also, most of you might have not heard about the brand named "Ttstar".  That could be the reasons, why this mic is cheaper than other external microphones. However, this microphone has good number of views sharing fine experience with it.
Furthermore, this lavalier lapel microphone is MFi certified connector. So it is safe to use for iOS devices. This external microphone could be used for iPhone 6 to iPhone 13. Also, you can use it with iPad mini/Air/Pro and iPod touch. This microphone has dimension of 4.17 x 2.8 x 1.06 inches and weight of 1.06 ounces. So you can take it to anywhere and use to record vlogs anytime.
This microphone supports high frequency range of 16KHz-20KHz. As a result, you get a professional sound quality without any distortion in comparison with your iPhone's internal mic. The noise cancellation technique helps you to record clear sound after removing the background sounds of the subject. The mic doesn't require drivers or batteries to record. You can just plug n play to start working on your project.
The portable design with a clip allows you to add it on your clothes for comfortable recording. Moreover, the mic comes with 6.6ft long cable to comfortably adapt the microphone according to various situations. Plus, the lightning port cable makes it a perfect external microphone for iPhone.
This external microphone is the best when it comes to creating an eye-catching gaming studio. You can also use this mic for the podcast, youtube, Twitch, Streaming, or professional voiceover.
Moreover, this microphone is different from all the above-listed microphones. It comes with radiant RGB lightning to give your set up a modern look. You can personalize the RGB lightning with customizable dynamic effects. In that way, you can give a personal touch to this microphone. You can accomplish all these settings via a software named "HyperX Ngenuity software". The built-in anti-vibration shock mount helps it to withstand steady while recording for hours. Also, the elastic rope suspension prevents unintentional rumbles and sound bumps.
You can start this mic with just a single tap on its top. Meanwhile, the LED status indicator is here to show if it's on or off. If the light is on, the mic is active but if the light is off, the mic is off. Moreover, you can choose from four polar patterns (stereo, omnidirectional, cardioid, bidirectional) according to the sound type you want to hear. Also, you can easily adjust the mic sensitivity by turning the dial located at the mic's bottom. 
The mic comes with a Mount adapter, pop filter, and headphone jack. Also, the internal pop filter blocks unwanted sounds while recording. QuadCast S is also certified by Discord and TeamSpeak. Meanwhile, this works with platforms like Streamlabs, OBS Studio, and XSplit. This mic has 4.8 out of 5 stars from 18,832 global ratings.
The only thing that will click you is that you need a dual-port adapter. That lightning adapter should has both ports – USB A and the lightning port. The lightning port is for charging the phone because RGB lights would blink if you will connect the phone only by using your phone. Second, this mic comes with USB A cable where second port will help. This might be hassle work otherwise this is the best external mic in the market. 
And, here we came to the end with an external mic that has a very interesting name. We're talking about Blue Raspberry mic from the Blue manufacturers.
Blue Raspberry is an electret cardioid condenser mic that you can use for voiceover, podcasting, streaming, and to attend Zoom calls. This mic comes with omnidirectional voice capture ability. So you can place it anywhere without caring about where this is facing to. Moreover, it comes with a studio sound quality of this mic is astonishing amazing. But the main highlight of this mic is its designing. The mic has its own circuitry to produce studio quality sound. Plus, the Internal Acoustic Diffuser (IAD) is here to exclude the peripheral noise and to ensure if the sound is focused on Vocals.
It comes with a compact size and a sturdy build quality. So you can take it to anywhere without worrying about damaging it. Besides the ability to carrying around, it also comes with an attractive look. That means this will also looks great on your personal desk or in your professional studio. Moreover, this mic also features volume control, mic level and mute for the monitoring.
The mic comes with 24-bit/48kHz resolution and is you can use it mic iPhone, Mac, iPad, and PC. This mic comes with not just vocal or narration recording. It also supports acoustic out. That means you can do a crystal clear recording of the acoustic guitar which sounds really amazing. Although, this is a sensitive mic and you should use it with care while recording. You might sound variations of voice level that may cause distortion when you'll get too close to it.
Th mic comes with USB cable, lightning cable, a Mic stand, and stand adapter and a carry pouch. This product works at high level performance and has plenty of features. At the ratings of 4.3 out of 5 from 150+ global users, this is another one of the best external microphones that comes at #10 of our list.
Conclusion
So here is the list of the best 10 external microphones for iPhone you might love. Also, we created a guide that includes all the basic and intermediate things. This will help you to choose best external microphone for your iPhone. Moreover, we will give a quick recap.
You might know what is the internal microphone and what is the external microphone. Also, you might know why and when you need an internal microphone and when you need the external one. After that you can see how to choose the best external microphone for you.
First, you need to check which type of microphone you want to buy.
Second, you need to check the connection type that this microphone supports.
Third, you need to confirm if your selected microphone require any additional hardware to do your recording.
Fourth, you need the check if the external microphone needs an additional software.
Fifth, you have to check your microphone's budget.
You can make a list of all the selected external microphone that you can choose for your buy. Later, you can choose the microphone where you've to do less compromise.
In short, create a list of selected microphones.
Then create a checklist on the front of all these selected microphones.
Then you can cut the microphone which is following that checklist very least.
If you follow these rules, you can easily get your mic. I hope this guide will help you to choose the best external microphone for you. Let us know which external microphone you like the most. And, share this post with someone who wants to buy an external microphone for iPhone.
Also Read: